Item declaration
Will my package be opened by the warehouse team if I did not select "Auto-Declaration" in my account?
---
1. What is Auto-declaration?
We help you to declare your packages for free when they arrive at our shipping centre.

To do so, check the "Auto-declaration box" under your Account Settings in "My Account" if you want us to declare your packages on your behalf.

However, if you want to declare the packages on your own, you can leave the box unchecked.

Note: All items to be declared must have a minimum value of 1 dollar.
---
2. How can I declare packages on my own?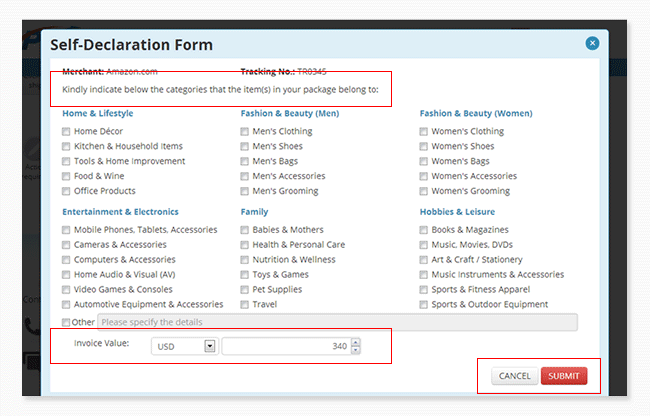 In "Other", do type in the product details. Remember to select the correct currency of the declared value and input value.

Click SUBMIT and you're done!
---
3. Will my package be opened by the warehouse team if I did not select "Auto-Declaration" in my account?
Yes, regardless of your declaration profile, all packages will be opened by our warehouse team to check for any prohibited/dangerous items in the package.

This applies to all packages arriving at our 3 warehouses.
---
4. What if my invoice value exceed USD 2,500?

If your invoice value exceeds USD 2,500, you will be required to submit the SED form.

Click on the Download SED Form button.
---
5. Can I change my declaration?

Declaration can be changed anytime when your package has arrived at our warehouse and before payment is made.
Do note that once package has been paid for, you will not be able to change your declaration.

We will not be liable for any losses incurred by customers due to wrong declarations of the package(s).
---
6. What if my item was a free gift from my merchant or I have redeemed the item via my loyalty points, what is the correct amount for me to declare?
All goods, including Free of Charge (FOC) items or replacement goods, you have to obtain the commercial value of the items from the supplier/merchant. The declared value at the time of import should be based on:

a) The transaction value of identical or similar goods from the same country of origin that is exported at about the same time, or
b) The original price payable for the goods as if they are sold for export to Malaysia.